Surgical instruments
From blue-prints to large scale production
As a One-Stop-Shop, we are expert manufacturers of innovative orthopedic instruments from proof of concept to full scale production. Delivering high quality products, we are dedicated to hit your deadlines within an affordable budget.

Design
---
Intech stands for more than just Manufacturing Solutions : we also design Solutions! Our Research & Development services enables Medical Device companies to rapidly develop complex instruments & maximize the cost-efficiency of any instrument project.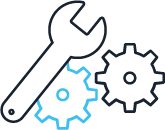 Industrialization
---
Intech's true colors come out at the industrialization phase, taking your design from concept to full scale machining. This goes through DFM (aka. Design For Manufacturing) to ensure process and cycle-times are optimized and mitigate any surprises down the road.

Forgings & finishing
---
With thousands of forgings on the shelf, our forging department allows for rapid assembly, weld and crafting of cost-effective forceps-style devices.
Each Intech facility is equipped with welding (TIG/laser etc.) & in-house cleaning and passivation lines.
Strategy, Design, Manufacturability, Prototyping, Production.
From design to manufacturing
---
Thanks to our state-of-the-art research and development facilities, our really smart and talented engineers develop complex off-the-shelf or made-to-measure instruments quickly and cost-efficiently! That's what you call having an edge! Beyond reducing costs, this 360º approach makes upstream integration of quality management easier, whilst also guaranteeing a seamless transfer from design to large-scale production.
What's in your tray?