Bring your project(s) to life!
As innovative explorers devoted to life, we assist our clients by providing them with a complete R&D offering from design to market introduction.
Whether you're a small player with a groundbreaking concept or a leading medical device company lacking internal resources to launch a new system or revamp your surgical technique, we have the expertise and resources to bring your vision to life.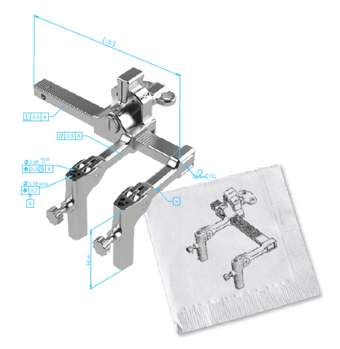 A contract-design package scaled to your scope of work.
Basic
$900
Simple customization of an Intech catalog device (instrument, handle or tray) to ensure optimal fit and function with a personal touch!
GET STARTED
Design Input/Output
Customization
Top Level Drawing + 3D Model
(next step) Launch
Professional
NRE fee
When you need assistance designing an instrument from scratch or more complex spin-off from an existing Intech catalog device.
GET STARTED
Dedicated R&D Engineer
Design iterations
Drawing + 3D Model
DFM with Manufacturing Engineer
(optional) Additional Testing
(optional) DHF / Technical File
(next step) Launch
Elite
OEM fee
Our signature package for Private-Label or OEM turnkey solutions that ranges from design concept to prototyping and manufacturing with regulatory registrations.
Get started
Dedicated Project Team to support you from concept to launch
Design iterations
DHF / Technical File
Testing & Cadaver Lab support
V&V activities
Regulatory registration
Distribution agreement
(optional) CE mark
(next step) Launch
Evaluation Lab support
Design
Prototyping
Customization
Testing
Distribution agreement
V&V
Regulatory registration
Customize your Medical Device: